ShortMiner Script by ScriptNet Solutions
ShortMiner Script by ScriptNet Solutions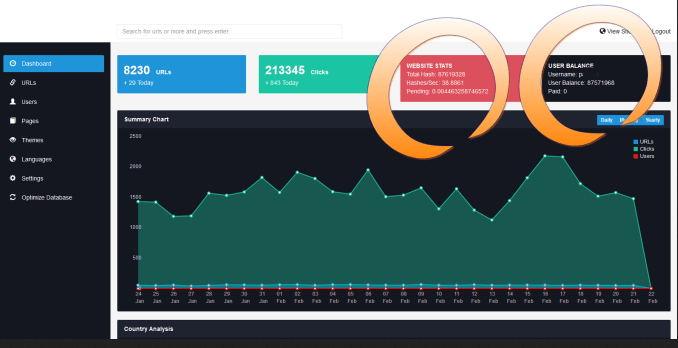 Optional JS XMR Mining available!


With ShortMiner you can create the Ultimate branding URL Shortener with premium features, stats, Administrator back-end and API. A modern and easy way of passive income!

Fully automated url Shortener with not-intrusive redirect; no more fancy landing pages, popups or aggressive ADS.
Instead, just a not intrusive toolbar or a mining quiz!
The toolbar allow you to gain Hashes from your Visitors.

Your URL shortener creates exponentially over time new links; means that depending on its use, the number of clicks and therefore the hashes produced will increase.

The system, via API, can be used for share to your Socials, unlimited short Urls that allow you to gain Hashes; it is compatible with share platforms.

Available Premium version with paying Users!

Why Monero?
XMR is very simple to obtain, through browsers and current quotations, it has become a profitable system of passive income


Start to gain revenues in autopilot!

Ask for more informations.
Privacy Policy Applied
More info
https://scriptnet.net/privacy

✩ Lifetime Support & Updates ✩
Secured transactions
PayPal is one of the largest global e-commerce allowing payments and money transfers to be made through the Internet. ScriptNet Solution applies high safety standards using secure connections and relies on PayPal for all transactions.
ScriptNet Solution honors very seriously the Policy for e-commerce. According to new European rules, we are pleased to be able to interact in the most cordial and appropriate manner, with all of our Customers who need to solve problems related to Jurisdiction / Choice of Law and Returns.
For questions and contacts
: support(at)scriptnet.net or visit our
Support Team
. More info at
Webgate.ec.europa.eu Policy