SneakPeek Web Thumbnails Platform
SneakPeek Web Thumbnails Platform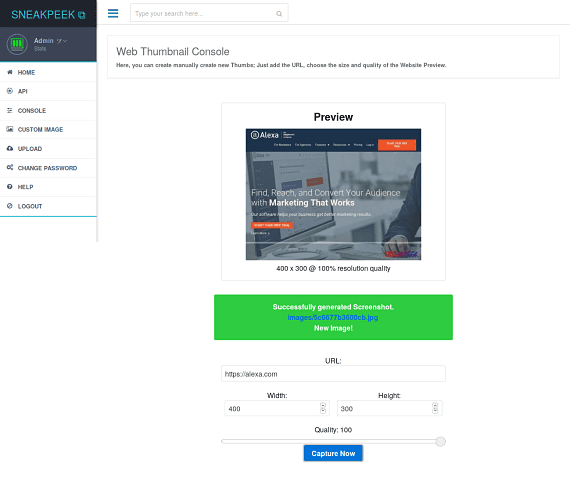 ALL INCLUSIVE OFFER - Web Hosting included 1 year
SneakPeek Suite, Web Thumbnail Suite": FULL website that will allow you not only to have the same features described on SneakScript, but also includes:
FEATURES
Unlimited Website Previews
Dinamic and Static Web Preview
Custom Size, up to 2000 px
Custom quality Images
Custom preloader
Custom Image Cache update
Your own logo on the snapshots
Cron and Queue function
Back end and Dashboard
Visual Gallery of the Generated Screenshots
API: WebThumbs for all your Websites
Examples ad Tutorials
Exclusive Wordpress Plugin
Plus:
- Front end, and Back end

- Page 404 and terms page included
- Manual Screenshot from URL

- Creating custom images with HTML5 Image Editor
- Advanced Search of the images

- Visual Gallery of the Previews

- Generation of PDF from URL
- Priority contact form

This offer includes installation in your webspace!
Requirements:
- Linux Servers
- No Shared Hosting

- SSH Access
Privacy Policy Applied
More info
https://scriptnet.net/privacy

✩ Lifetime Support & Updates ✩
Secured transactions
PayPal is one of the largest global e-commerce allowing payments and money transfers to be made through the Internet. ScriptNet Solution applies high safety standards using secure connections and relies on PayPal for all transactions.
ScriptNet Solution honors very seriously the Policy for e-commerce. According to new European rules, we are pleased to be able to interact in the most cordial and appropriate manner, with all of our Customers who need to solve problems related to Jurisdiction / Choice of Law and Returns.
For questions and contacts
: support(at)scriptnet.net or visit our
Support Team
. More info at
Webgate.ec.europa.eu Policy