ScriptBay PRO eBay Seller Platform
ScriptBay PRO eBay Seller Platform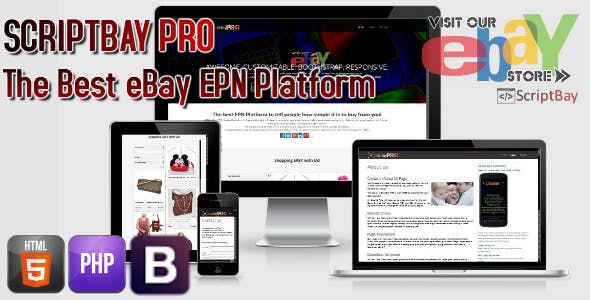 The best EPN Platform to tell people how simple it is to buy from you!

ScriptBay PRO is proposed as an alternative to the usual, mundane and often ineffective landing pages / splash pages that you see every day on the web.
Show your users, in real time, the Item for sale from your eBay Shop and increasing substantially any sales. It also provides an excellent and professional store front for your Business, technologically advanced and fully optimized for this purpose.

In what way does ScriptBay PRO increase my earnings?

With the unique features of ScriptBay, you have a triple advantage.

Incomes from the sale of your items on eBay; this comes through your affiliate link, and even if the sale is another object through the eBay affiliate program (EPN)!
Social button share on every preview; share your Items wit your EPN ID!

ScriptBay PRO introduce your eBay Business, increase SALES and traffic for your eBay Shop, along with your popularity and Presence on the WEB!
ScriptBay PRO is classified as a mini web site complete with descriptive page of your e-commerce on eBay, customizable contact form, Google Map, and of course the inimitable characteristics of ScriptBay, Advanced EPN eBay Search (version 1.4.4).

The template is compatible with all browsers and is responsive with modern mobile devices and tablets.

It is also possible to set the default search with a keyword default, which will display the Item in real-time with direct link to the auction on eBay.

Do I need a hosting with special features?

No! The total weight of all the files and less than 3MB! With ScriptBay PRO a database is not necessary; your contact form and Google Map are included in this fantastic template!

NOW is the time to increase your eBay Business!
ScriptBay Version: 1.5.5
Privacy Policy Applied
More info
https://scriptnet.net/privacy

✩ Lifetime Support & Updates ✩
Secured transactions
PayPal is one of the largest global e-commerce allowing payments and money transfers to be made through the Internet. ScriptNet Solution applies high safety standards using secure connections and relies on PayPal for all transactions.
ScriptNet Solution honors very seriously the Policy for e-commerce. According to new European rules, we are pleased to be able to interact in the most cordial and appropriate manner, with all of our Customers who need to solve problems related to Jurisdiction / Choice of Law and Returns.
For questions and contacts
: support(at)scriptnet.net or visit our
Support Team
. More info at
Webgate.ec.europa.eu Policy